The Allure Of Afghan Handmade Carpet
Just like Persian rugs, Afghan rugs take their namesake from Afghanistan. They boast an incredible history that dates back to hundreds of years & weaves a tail of old times.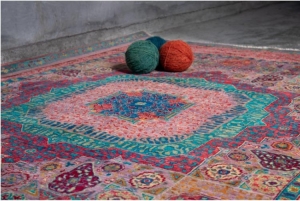 Afghan rugs, often known as Afghan handmade carpet, are hand-woven rugs that are historically created in Afghanistan..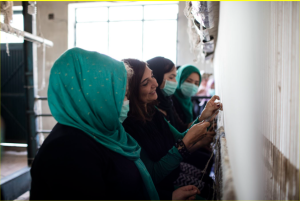 Afghan rugs received international prizes in 2008, 2013, and 2014, which are hosted yearly in Hamburg, Germany. Different ethnic groups, primarily Turkmen, manufacture Afghan rugs in northern and western Afghanistan. All of these mostly sell in carpet shop but they also sell Afghan carpet online.
Why are Afghan handmade carpets so unique?
When it comes to dyeing and coloring, one of the most distinguishing qualities of carpets created in Afghanistan is the use of natural dyes. Unlike other technologically advanced rug-producing countries, Afghans are exceptionally committed and resourceful, focusing on using solely locally accessible natural resources. Afghan carpets for sale are mainly made from natural materials.
Natural elements such as flowers, fruits, timber, vegetables, and other earthly goods are used to dye and color everything. Not only does this ensure that the carpets are devoid of dangerous chemicals, but some people also believe that the pigment found in these natural sources gives the carpets a brilliant color that improves over time.
The Shindand or Adraskan (named after local Afghan cities) is one of the most fascinating and peculiar of all oriental rugs, produced in the Herat Province of western Afghanistan.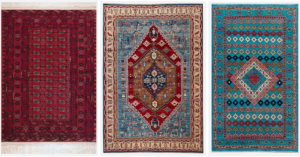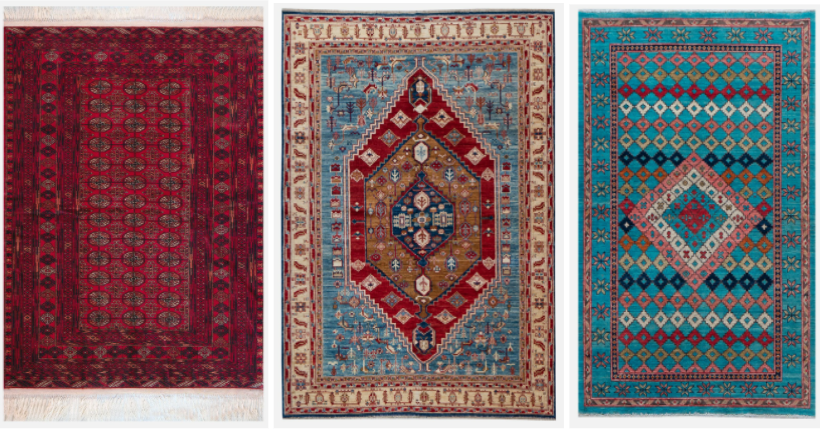 Their hallmark appearance is bizarrely elongated human and animal designs. Carpets are sold all over Afghanistan, although the majority are sold in Mazar-e Sharif. You can also get Afghan carpet online.
How Are Afghan Rugs Made?
Afghan handmade carpet making procedure starts with a pair of shears. The north of Afghanistan is rich in resources, and the grassier plains are ideal for raising healthy animals. After that, the wool is cleaned, brushed, & hand-spun into yarn balls, that are then coloured.
The carpet is then woven on a floor or standing loom, with the weaver progressively forming the carpet and its pattern over time by repeating a series of knots.
The rug is normally trimmed on the sides after it has been braided and knotted before being washed and hung to dry. After the carpet has dried, it is usually lightly brushed to bring out the color. Then these are usually sent to carpet shops for selling.
What are the Weaving Techniques used for making Afghan Rugs?
These robust and long-lasting rugs are a testament to the cottage-based craftsmanship that has been passed down through the centuries. Carpets are created in a variety of ways, including by hand and by machine.
People are typically woven on small looms and are mostly used to decorate the tents in which they live. They're made of Persian knots and hand spun Afghan wool that's been vegetable colored. Pre-dyed wool yarn is frequently used in place of or in combination with natural colors.
The majority of Afghan weavers produce rugs that are nearly identical to those they have woven for decades. As a result, they are seen as a vital part of their culture.
What are Different Types of Afghan Rugs?
Afghan carpets are divided into three categories: carpet pattern, weaving technique, and substance. Handmade rugs and carpets, as well as flat weave kilims, are available at the finest level. Then there are modern rugs and traditional tribal carpets, and then there are design classifications.
Why are Afghan Rugs Expensive?
There are two most common reasons for this:
Labor cost: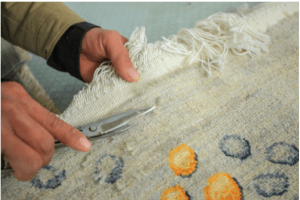 While the debate about Afghan carpet weavers' poor wages continues, labor costs are a small part of the overall cost of Afghan rugs. To gain a better understanding, one worker may weave up to one sq meter monthly, which means that each sq. meter requires a month's income.
Material Cost:
Rug prices vary based on the type of wool used. Merino wool, for example, is 1/3 the cost of Belgian wool. Organic resources utilized in Afghan handmade carpet, such as wool and vegetable dyes, are costly. Afghan rugs are also related with indirect and non-value-adding expenditures.
Zuleya Carpets: Making a difference
Zuleya is basically a retail brand that sells handicrafts including handmade afghan carpets made by FMBI in Afghanistan. Afghan carpets made here possess a value & are designed from pure wool obtained from sheeps.
The money earned by selling these intricately made carpets is used to help Afghan artisans to preserve the ancient craft. Moreover, this money is also used in healthcare & education to empower themselves. Visit Zuleya FMBI showroom to discover a world of handmade afghan carpets.